Chevrolet Avalanche Front Mud Guard Set 2007 - 2013 / 56731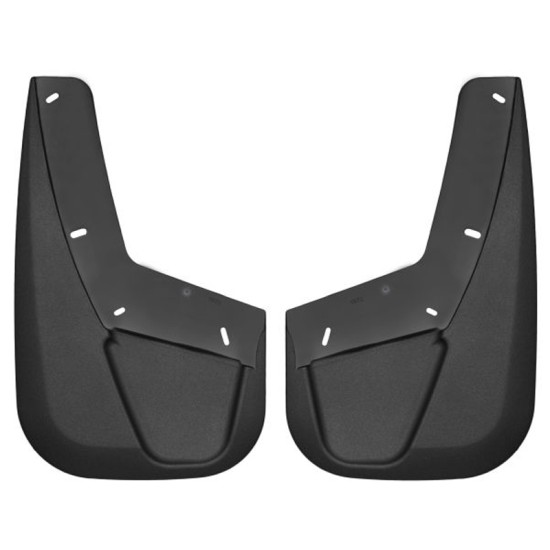 Chevrolet Avalanche Front Mud Guard Set 2007 - 2013 / 56731
THIS PRODUCT QUALIFIES FOR FREE SHIPPING
Receive free shipping on any product on our website that ships to the 48 Contiguous United States. For all other locations, please
contact us
.
Stock:

In Stock

Part Number:

56731

Husky Liners
Guaranteed Fitment
Factory-tested for proper fitment
In-House Experts
Product specialists on standby
Protect the exterior of your 2007 - 2013 Chevrolet Avalanche with Husky Liners Front Mud Guard Set
During transit, the tires of your Chevrolet Avalanche kick up debris like rocks, dirt, and trash. Without the proper defense, the paint on your fenders can take a beating. Prevent unsightly marks caused by roadside hazards with a Chevrolet Avalanche Mud Guard Set from Husky Liners. Manufactured in the USA with high quality thermoplastic, this Mud Guard Set will provide your Chevrolet Avalanche with defense and protection for years. Husky Liners has specifically designed this Mud Guard Set for your Chevrolet Avalanche, so you're guaranteed to receive a part that will perfectly and seamlessly fit onto your Chevrolet Avalanche. Installing a Mud Guard Set to your Chevrolet Avalanche is a breeze, everything necessary for the installation process is included, and no prior automotive installation experience is necessary. Provide a layer of defense between the tires of your Chevrolet Avalanche and the fenders of your Chevrolet Avalanche with a Mud Guard Set from Husky Liners. Order a Mud Guard Set for your Chevrolet Avalanche today!
Mud Guards come packaged with all the necessary hardware and instructions needed for installation
Lifetime warranty
Made in the USA
Made using impact-resistant thermoplastic
Creates a protective barrier between your fender and tire
Quick and easy installation
Manufactured to fit your Chevrolet Avalanche perfectly
*Excludes Chevrolet Avalanche Z71.

Tags:
2007 Chevrolet Avalanche
,
2008 Chevrolet Avalanche
,
2009 Chevrolet Avalanche
,
2010 Chevrolet Avalanche
,
2011 Chevrolet Avalanche
,
2012 Chevrolet Avalanche
,
2013 Chevrolet Avalanche
,
2007 Chevrolet Avalanche Mud Guard
,
2007 Chevrolet Avalanche Mud Guards
,
2007 Chevrolet Avalanche Mud Guard Set
,
2007 Chevrolet Avalanche Splash Guard
,
2007 Chevrolet Avalanche Splash Guards
,
2007 Chevrolet Avalanche Splash Guard Set
,
2007 Chevrolet Avalanche Mud Flap
,
2007 Chevrolet Avalanche Mud Flaps
,
2007 Chevrolet Avalanche Mud Flap Set
,
2007 Chevrolet Avalanche Front Mud Guard
,
2007 Chevrolet Avalanche Front Mud Guards
,
2007 Chevrolet Avalanche Front Mud Guard Set
,
2007 Chevrolet Avalanche Front Splash Guard
,
2007 Chevrolet Avalanche Front Splash Guards
,
2007 Chevrolet Avalanche Front Splash Guard Set
,
2007 Chevrolet Avalanche Front Mud Flap
,
2007 Chevrolet Avalanche Front Mud Flaps
,
2007 Chevrolet Avalanche Front Mud Flap Set
,
2008 Chevrolet Avalanche Mud Guard
,
2008 Chevrolet Avalanche Mud Guards
,
2008 Chevrolet Avalanche Mud Guard Set
,
2008 Chevrolet Avalanche Splash Guard
,
2008 Chevrolet Avalanche Splash Guards
,
2008 Chevrolet Avalanche Splash Guard Set
,
2008 Chevrolet Avalanche Mud Flap
,
2008 Chevrolet Avalanche Mud Flaps
,
2008 Chevrolet Avalanche Mud Flap Set
,
2008 Chevrolet Avalanche Front Mud Guard
,
2008 Chevrolet Avalanche Front Mud Guards
,
2008 Chevrolet Avalanche Front Mud Guard Set
,
2008 Chevrolet Avalanche Front Splash Guard
,
2008 Chevrolet Avalanche Front Splash Guards
,
2008 Chevrolet Avalanche Front Splash Guard Set
,
2008 Chevrolet Avalanche Front Mud Flap
,
2008 Chevrolet Avalanche Front Mud Flaps
,
2008 Chevrolet Avalanche Front Mud Flap Set
,
2009 Chevrolet Avalanche Mud Guard
,
2009 Chevrolet Avalanche Mud Guards
,
2009 Chevrolet Avalanche Mud Guard Set
,
2009 Chevrolet Avalanche Splash Guard
,
2009 Chevrolet Avalanche Splash Guards
,
2009 Chevrolet Avalanche Splash Guard Set
,
2009 Chevrolet Avalanche Mud Flap
,
2009 Chevrolet Avalanche Mud Flaps
,
2009 Chevrolet Avalanche Mud Flap Set
,
2009 Chevrolet Avalanche Front Mud Guard
,
2009 Chevrolet Avalanche Front Mud Guards
,
2009 Chevrolet Avalanche Front Mud Guard Set
,
2009 Chevrolet Avalanche Front Splash Guard
,
2009 Chevrolet Avalanche Front Splash Guards
,
2009 Chevrolet Avalanche Front Splash Guard Set
,
2009 Chevrolet Avalanche Front Mud Flap
,
2009 Chevrolet Avalanche Front Mud Flaps
,
2009 Chevrolet Avalanche Front Mud Flap Set
,
2010 Chevrolet Avalanche Mud Guard
,
2010 Chevrolet Avalanche Mud Guards
,
2010 Chevrolet Avalanche Mud Guard Set
,
2010 Chevrolet Avalanche Splash Guard
,
2010 Chevrolet Avalanche Splash Guards
,
2010 Chevrolet Avalanche Splash Guard Set
,
2010 Chevrolet Avalanche Mud Flap
,
2010 Chevrolet Avalanche Mud Flaps
,
2010 Chevrolet Avalanche Mud Flap Set
,
2010 Chevrolet Avalanche Front Mud Guard
,
2010 Chevrolet Avalanche Front Mud Guards
,
2010 Chevrolet Avalanche Front Mud Guard Set
,
2010 Chevrolet Avalanche Front Splash Guard
,
2010 Chevrolet Avalanche Front Splash Guards
,
2010 Chevrolet Avalanche Front Splash Guard Set
,
2010 Chevrolet Avalanche Front Mud Flap
,
2010 Chevrolet Avalanche Front Mud Flaps
,
2010 Chevrolet Avalanche Front Mud Flap Set
,
2011 Chevrolet Avalanche Mud Guard
,
2011 Chevrolet Avalanche Mud Guards
,
2011 Chevrolet Avalanche Mud Guard Set
,
2011 Chevrolet Avalanche Splash Guard
,
2011 Chevrolet Avalanche Splash Guards
,
2011 Chevrolet Avalanche Splash Guard Set
,
2011 Chevrolet Avalanche Mud Flap
,
2011 Chevrolet Avalanche Mud Flaps
,
2011 Chevrolet Avalanche Mud Flap Set
,
2011 Chevrolet Avalanche Front Mud Guard
,
2011 Chevrolet Avalanche Front Mud Guards
,
2011 Chevrolet Avalanche Front Mud Guard Set
,
2011 Chevrolet Avalanche Front Splash Guard
,
2011 Chevrolet Avalanche Front Splash Guards
,
2011 Chevrolet Avalanche Front Splash Guard Set
,
2011 Chevrolet Avalanche Front Mud Flap
,
2011 Chevrolet Avalanche Front Mud Flaps
,
2011 Chevrolet Avalanche Front Mud Flap Set
,
2012 Chevrolet Avalanche Mud Guard
,
2012 Chevrolet Avalanche Mud Guards
,
2012 Chevrolet Avalanche Mud Guard Set
,
2012 Chevrolet Avalanche Splash Guard
,
2012 Chevrolet Avalanche Splash Guards
,
2012 Chevrolet Avalanche Splash Guard Set
,
2012 Chevrolet Avalanche Mud Flap
,
2012 Chevrolet Avalanche Mud Flaps
,
2012 Chevrolet Avalanche Mud Flap Set
,
2012 Chevrolet Avalanche Front Mud Guard
,
2012 Chevrolet Avalanche Front Mud Guards
,
2012 Chevrolet Avalanche Front Mud Guard Set
,
2012 Chevrolet Avalanche Front Splash Guard
,
2012 Chevrolet Avalanche Front Splash Guards
,
2012 Chevrolet Avalanche Front Splash Guard Set
,
2012 Chevrolet Avalanche Front Mud Flap
,
2012 Chevrolet Avalanche Front Mud Flaps
,
2012 Chevrolet Avalanche Front Mud Flap Set
,
2013 Chevrolet Avalanche Mud Guard
,
2013 Chevrolet Avalanche Mud Guards
,
2013 Chevrolet Avalanche Mud Guard Set
,
2013 Chevrolet Avalanche Splash Guard
,
2013 Chevrolet Avalanche Splash Guards
,
2013 Chevrolet Avalanche Splash Guard Set
,
2013 Chevrolet Avalanche Mud Flap
,
2013 Chevrolet Avalanche Mud Flaps
,
2013 Chevrolet Avalanche Mud Flap Set
,
2013 Chevrolet Avalanche Front Mud Guard
,
2013 Chevrolet Avalanche Front Mud Guards
,
2013 Chevrolet Avalanche Front Mud Guard Set
,
2013 Chevrolet Avalanche Front Splash Guard
,
2013 Chevrolet Avalanche Front Splash Guards
,
2013 Chevrolet Avalanche Front Splash Guard Set
,
2013 Chevrolet Avalanche Front Mud Flap
,
2013 Chevrolet Avalanche Front Mud Flaps
,
2013 Chevrolet Avalanche Front Mud Flap Set
,
Mud Guard
,
Mud Guards
,
Mud Guard Set
,
Splash Guard
,
Splash Guards
,
Splash Guard Set
,
Mud Flap
,
Mud Flaps
,
Mud Flap Set
,
Front Mud Guard
,
Front Mud Guards
,
Front Mud Guard Set
,
Front Splash Guard
,
Front Splash Guards
,
Front Splash Guard Set
,
Front Mud Flap
,
Front Mud Flaps
,
Front Mud Flap Set