Cadillac SRX Heavy Duty 2nd or 3rd Row Floor Mats 2004 - 2008 / 5202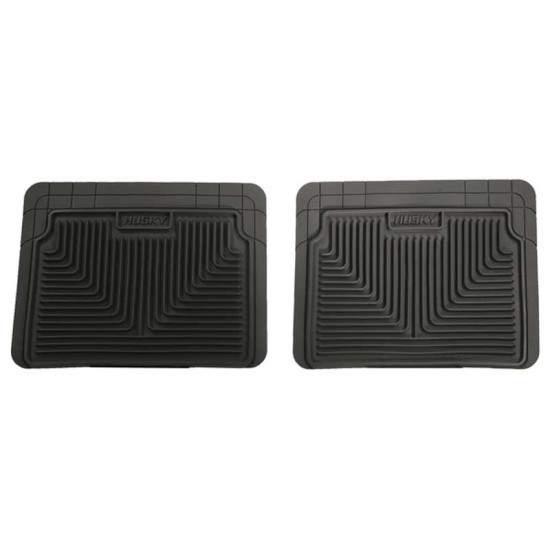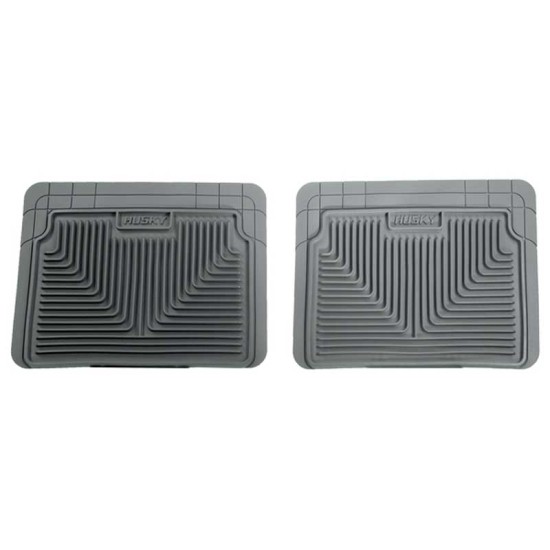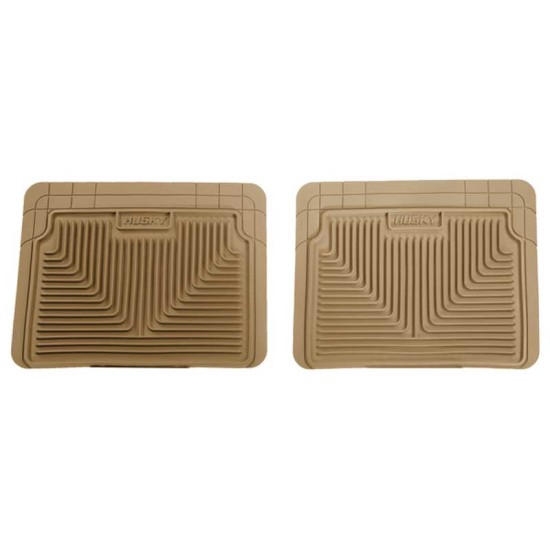 Cadillac SRX Heavy Duty 2nd or 3rd Row Floor Mats 2004 - 2008 / 5202
THIS PRODUCT QUALIFIES FOR FREE SHIPPING
Receive free shipping on any product on our website that ships to the 48 Contiguous United States. For all other locations, please
contact us
.
Stock:

In Stock

Part Number:

5202

Husky Liners
Guaranteed Fitment
Factory-tested for proper fitment
In-House Experts
Product specialists on standby
Add tough and rugged protection to the interior of your 2004 - 2008 Cadillac SRX with the assistance of Husky Liners Heavy Duty 2nd or 3rd Row Floor Mats
Protect the carpet of your Cadillac SRX with a Heavy Duty Floor Mat from Husky Liners. Heavy Duty Floor Mats lock into place to prevent them from sliding around. These tough Heavy Duty Floor Mats feature raised edges and channels to contain spills and prevent them from staining your carpet. Manufactured with the utmost care, Husky Liners stands behind the quality of their Heavy Duty Floor Mats by offering a lifetime guarantee. Add protection to the interior of your Cadillac SRX, without sacrificing style, by adding durable Heavy Duty Floor Mats. Start protecting your Cadillac SRX with Heavy Duty Floor Mats today!
Lifetime warranty
Made in the USA
Raised edges contain liquids to prevent carpet damage
Made of durable materials to withstand mud, snow, rain, chemicals, and other spills
Easily cleaned, simply shake and rinse with a hose
Constructed of quality materials and made to last
Will not shift around
Custom-molded and manufactured to fit your Cadillac SRX perfectly

Tags:
2004 Cadillac SRX
,
2005 Cadillac SRX
,
2006 Cadillac SRX
,
2007 Cadillac SRX
,
2008 Cadillac SRX
,
2004 Cadillac SRX Floor Liner
,
2004 Cadillac SRX Floor Mat
,
2004 Cadillac SRX Floor Liners
,
2004 Cadillac SRX Floor Mats
,
2004 Cadillac SRX Heavy Duty
,
2004 Cadillac SRX Heavy Duty Floor Liner
,
2004 Cadillac SRX Heavy Duty Floor Liners
,
2004 Cadillac SRX Heavy Duty Floor Mat
,
2004 Cadillac SRX Heavy Duty Floor Mats
,
2004 Cadillac SRX Rear Floor Liner
,
2004 Cadillac SRX Rear Floor Liners
,
2004 Cadillac SRX Rear Floor Mat
,
2004 Cadillac SRX Rear Floor Mats
,
2004 Cadillac SRX Heavy Duty Rear Floor Liner
,
2004 Cadillac SRX Heavy Duty Rear Floor Liners
,
2004 Cadillac SRX Heavy Duty Rear Floor Mat
,
2004 Cadillac SRX Heavy Duty Rear Floor Mats
,
2005 Cadillac SRX Floor Liner
,
2005 Cadillac SRX Floor Mat
,
2005 Cadillac SRX Floor Liners
,
2005 Cadillac SRX Floor Mats
,
2005 Cadillac SRX Heavy Duty
,
2005 Cadillac SRX Heavy Duty Floor Liner
,
2005 Cadillac SRX Heavy Duty Floor Liners
,
2005 Cadillac SRX Heavy Duty Floor Mat
,
2005 Cadillac SRX Heavy Duty Floor Mats
,
2005 Cadillac SRX Rear Floor Liner
,
2005 Cadillac SRX Rear Floor Liners
,
2005 Cadillac SRX Rear Floor Mat
,
2005 Cadillac SRX Rear Floor Mats
,
2005 Cadillac SRX Heavy Duty Rear Floor Liner
,
2005 Cadillac SRX Heavy Duty Rear Floor Liners
,
2005 Cadillac SRX Heavy Duty Rear Floor Mat
,
2005 Cadillac SRX Heavy Duty Rear Floor Mats
,
2006 Cadillac SRX Floor Liner
,
2006 Cadillac SRX Floor Mat
,
2006 Cadillac SRX Floor Liners
,
2006 Cadillac SRX Floor Mats
,
2006 Cadillac SRX Heavy Duty
,
2006 Cadillac SRX Heavy Duty Floor Liner
,
2006 Cadillac SRX Heavy Duty Floor Liners
,
2006 Cadillac SRX Heavy Duty Floor Mat
,
2006 Cadillac SRX Heavy Duty Floor Mats
,
2006 Cadillac SRX Rear Floor Liner
,
2006 Cadillac SRX Rear Floor Liners
,
2006 Cadillac SRX Rear Floor Mat
,
2006 Cadillac SRX Rear Floor Mats
,
2006 Cadillac SRX Heavy Duty Rear Floor Liner
,
2006 Cadillac SRX Heavy Duty Rear Floor Liners
,
2006 Cadillac SRX Heavy Duty Rear Floor Mat
,
2006 Cadillac SRX Heavy Duty Rear Floor Mats
,
2007 Cadillac SRX Floor Liner
,
2007 Cadillac SRX Floor Mat
,
2007 Cadillac SRX Floor Liners
,
2007 Cadillac SRX Floor Mats
,
2007 Cadillac SRX Heavy Duty
,
2007 Cadillac SRX Heavy Duty Floor Liner
,
2007 Cadillac SRX Heavy Duty Floor Liners
,
2007 Cadillac SRX Heavy Duty Floor Mat
,
2007 Cadillac SRX Heavy Duty Floor Mats
,
2007 Cadillac SRX Rear Floor Liner
,
2007 Cadillac SRX Rear Floor Liners
,
2007 Cadillac SRX Rear Floor Mat
,
2007 Cadillac SRX Rear Floor Mats
,
2007 Cadillac SRX Heavy Duty Rear Floor Liner
,
2007 Cadillac SRX Heavy Duty Rear Floor Liners
,
2007 Cadillac SRX Heavy Duty Rear Floor Mat
,
2007 Cadillac SRX Heavy Duty Rear Floor Mats
,
2008 Cadillac SRX Floor Liner
,
2008 Cadillac SRX Floor Mat
,
2008 Cadillac SRX Floor Liners
,
2008 Cadillac SRX Floor Mats
,
2008 Cadillac SRX Heavy Duty
,
2008 Cadillac SRX Heavy Duty Floor Liner
,
2008 Cadillac SRX Heavy Duty Floor Liners
,
2008 Cadillac SRX Heavy Duty Floor Mat
,
2008 Cadillac SRX Heavy Duty Floor Mats
,
2008 Cadillac SRX Rear Floor Liner
,
2008 Cadillac SRX Rear Floor Liners
,
2008 Cadillac SRX Rear Floor Mat
,
2008 Cadillac SRX Rear Floor Mats
,
2008 Cadillac SRX Heavy Duty Rear Floor Liner
,
2008 Cadillac SRX Heavy Duty Rear Floor Liners
,
2008 Cadillac SRX Heavy Duty Rear Floor Mat
,
2008 Cadillac SRX Heavy Duty Rear Floor Mats
,
Floor Liner
,
Floor Mat
,
Floor Liners
,
Floor Mats
,
Heavy Duty
,
Heavy Duty Floor Liner
,
Heavy Duty Floor Liners
,
Heavy Duty Floor Mat
,
Heavy Duty Floor Mats
,
Rear Floor Liner
,
Rear Floor Liners
,
Rear Floor Mat
,
Rear Floor Mats
,
Heavy Duty Rear Floor Liner
,
Heavy Duty Rear Floor Liners
,
Heavy Duty Rear Floor Mat
,
Heavy Duty Rear Floor Mats