Jeep Patriot WeatherBeater Front Floor Liners 2007 - 2017 / 1300 (1300)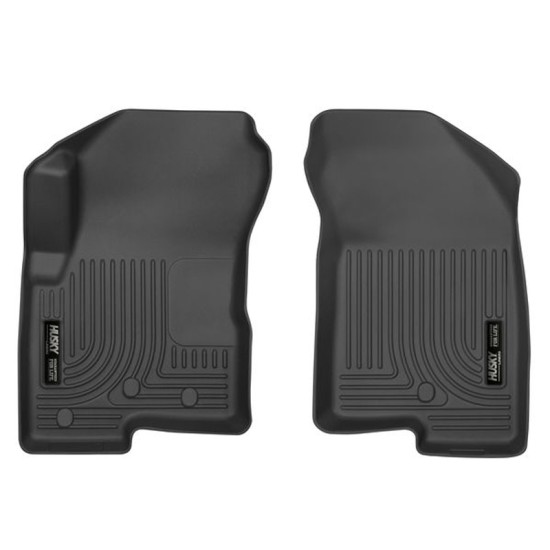 Jeep Patriot WeatherBeater Front Floor Liners 2007 - 2017 / 1300 (1300)
THIS PRODUCT QUALIFIES FOR FREE SHIPPING
Receive free shipping on any product on our website that ships to the 48 Contiguous United States. For all other locations, please
contact us
.
Stock:

In Stock

Part Number:

1300

Husky Liners
Guaranteed Fitment
Factory-tested for proper fitment
In-House Experts
Product specialists on standby
Contain spills and protect the carpet of your 2007 - 2017 Jeep Patriot with the addition of Husky Liners WeatherBeater Front Floor Liners
If you're looking to protect your investment from mud, snow, and spills, WeatherBeater Floor Liners are the products for you. Made in the USA using high quality materials, and backed by a lifetime guarantee, these durable WeatherBeater Floor Liners can take anything you can throw at them. Adding WeatherBeater Floor Liners to you Jeep Patriot is quick and simple, just slide them into place. Cleaning WeatherBeater Floor Liners is an easy process as well, simply pull them out, rinse them and put them back into your Jeep Patriot. WeatherBeater Floor Liners have raised edges in order to contain spills and prevent them from getting onto the carpet of your Jeep Patriot and leaving an unsightly stain. Every WeatherBeater Floor Liner has been factory tested to perfectly fit into your Jeep Patriot, taking the detailed contours of your ride into account. Keep your Jeep Patriot clean and protected by preventing stains with the help of WeatherBeater Floor Liners. Order yours today!
Lifetime warranty
Made in the USA
Raised edges contain liquids to prevent carpet damage
Made of durable materials to withstand mud, snow, rain, chemicals, and other spills
Easily cleaned, simply shake and rinse with a hose
Constructed of quality materials and made to last
Will not shift around
Custom-molded and manufactured to fit your Jeep Patriot perfectly

Tags:
2007 Jeep Patriot
,
2008 Jeep Patriot
,
2009 Jeep Patriot
,
2010 Jeep Patriot
,
2011 Jeep Patriot
,
2012 Jeep Patriot
,
2013 Jeep Patriot
,
2014 Jeep Patriot
,
2015 Jeep Patriot
,
2016 Jeep Patriot
,
2017 Jeep Patriot
,
2007 Jeep Patriot Floor Liner
,
2007 Jeep Patriot Floor Mat
,
2007 Jeep Patriot Floor Liners
,
2007 Jeep Patriot Floor Mats
,
2007 Jeep Patriot WeatherBeater
,
2007 Jeep Patriot WeatherBeater Floor Liner
,
2007 Jeep Patriot WeatherBeater Floor Liners
,
2007 Jeep Patriot WeatherBeater Floor Mat
,
2007 Jeep Patriot WeatherBeater Floor Mats
,
2007 Jeep Patriot Front Floor Liner
,
2007 Jeep Patriot Front Floor Liners
,
2007 Jeep Patriot Front Floor Mat
,
2007 Jeep Patriot Front Floor Mats
,
2007 Jeep Patriot WeatherBeater Front Floor Liner
,
2007 Jeep Patriot WeatherBeater Front Floor Liners
,
2007 Jeep Patriot WeatherBeater Front Floor Mat
,
2007 Jeep Patriot WeatherBeater Front Floor Mats
,
2008 Jeep Patriot Floor Liner
,
2008 Jeep Patriot Floor Mat
,
2008 Jeep Patriot Floor Liners
,
2008 Jeep Patriot Floor Mats
,
2008 Jeep Patriot WeatherBeater
,
2008 Jeep Patriot WeatherBeater Floor Liner
,
2008 Jeep Patriot WeatherBeater Floor Liners
,
2008 Jeep Patriot WeatherBeater Floor Mat
,
2008 Jeep Patriot WeatherBeater Floor Mats
,
2008 Jeep Patriot Front Floor Liner
,
2008 Jeep Patriot Front Floor Liners
,
2008 Jeep Patriot Front Floor Mat
,
2008 Jeep Patriot Front Floor Mats
,
2008 Jeep Patriot WeatherBeater Front Floor Liner
,
2008 Jeep Patriot WeatherBeater Front Floor Liners
,
2008 Jeep Patriot WeatherBeater Front Floor Mat
,
2008 Jeep Patriot WeatherBeater Front Floor Mats
,
2009 Jeep Patriot Floor Liner
,
2009 Jeep Patriot Floor Mat
,
2009 Jeep Patriot Floor Liners
,
2009 Jeep Patriot Floor Mats
,
2009 Jeep Patriot WeatherBeater
,
2009 Jeep Patriot WeatherBeater Floor Liner
,
2009 Jeep Patriot WeatherBeater Floor Liners
,
2009 Jeep Patriot WeatherBeater Floor Mat
,
2009 Jeep Patriot WeatherBeater Floor Mats
,
2009 Jeep Patriot Front Floor Liner
,
2009 Jeep Patriot Front Floor Liners
,
2009 Jeep Patriot Front Floor Mat
,
2009 Jeep Patriot Front Floor Mats
,
2009 Jeep Patriot WeatherBeater Front Floor Liner
,
2009 Jeep Patriot WeatherBeater Front Floor Liners
,
2009 Jeep Patriot WeatherBeater Front Floor Mat
,
2009 Jeep Patriot WeatherBeater Front Floor Mats
,
2010 Jeep Patriot Floor Liner
,
2010 Jeep Patriot Floor Mat
,
2010 Jeep Patriot Floor Liners
,
2010 Jeep Patriot Floor Mats
,
2010 Jeep Patriot WeatherBeater
,
2010 Jeep Patriot WeatherBeater Floor Liner
,
2010 Jeep Patriot WeatherBeater Floor Liners
,
2010 Jeep Patriot WeatherBeater Floor Mat
,
2010 Jeep Patriot WeatherBeater Floor Mats
,
2010 Jeep Patriot Front Floor Liner
,
2010 Jeep Patriot Front Floor Liners
,
2010 Jeep Patriot Front Floor Mat
,
2010 Jeep Patriot Front Floor Mats
,
2010 Jeep Patriot WeatherBeater Front Floor Liner
,
2010 Jeep Patriot WeatherBeater Front Floor Liners
,
2010 Jeep Patriot WeatherBeater Front Floor Mat
,
2010 Jeep Patriot WeatherBeater Front Floor Mats
,
2011 Jeep Patriot Floor Liner
,
2011 Jeep Patriot Floor Mat
,
2011 Jeep Patriot Floor Liners
,
2011 Jeep Patriot Floor Mats
,
2011 Jeep Patriot WeatherBeater
,
2011 Jeep Patriot WeatherBeater Floor Liner
,
2011 Jeep Patriot WeatherBeater Floor Liners
,
2011 Jeep Patriot WeatherBeater Floor Mat
,
2011 Jeep Patriot WeatherBeater Floor Mats
,
2011 Jeep Patriot Front Floor Liner
,
2011 Jeep Patriot Front Floor Liners
,
2011 Jeep Patriot Front Floor Mat
,
2011 Jeep Patriot Front Floor Mats
,
2011 Jeep Patriot WeatherBeater Front Floor Liner
,
2011 Jeep Patriot WeatherBeater Front Floor Liners
,
2011 Jeep Patriot WeatherBeater Front Floor Mat
,
2011 Jeep Patriot WeatherBeater Front Floor Mats
,
2012 Jeep Patriot Floor Liner
,
2012 Jeep Patriot Floor Mat
,
2012 Jeep Patriot Floor Liners
,
2012 Jeep Patriot Floor Mats
,
2012 Jeep Patriot WeatherBeater
,
2012 Jeep Patriot WeatherBeater Floor Liner
,
2012 Jeep Patriot WeatherBeater Floor Liners
,
2012 Jeep Patriot WeatherBeater Floor Mat
,
2012 Jeep Patriot WeatherBeater Floor Mats
,
2012 Jeep Patriot Front Floor Liner
,
2012 Jeep Patriot Front Floor Liners
,
2012 Jeep Patriot Front Floor Mat
,
2012 Jeep Patriot Front Floor Mats
,
2012 Jeep Patriot WeatherBeater Front Floor Liner
,
2012 Jeep Patriot WeatherBeater Front Floor Liners
,
2012 Jeep Patriot WeatherBeater Front Floor Mat
,
2012 Jeep Patriot WeatherBeater Front Floor Mats
,
2013 Jeep Patriot Floor Liner
,
2013 Jeep Patriot Floor Mat
,
2013 Jeep Patriot Floor Liners
,
2013 Jeep Patriot Floor Mats
,
2013 Jeep Patriot WeatherBeater
,
2013 Jeep Patriot WeatherBeater Floor Liner
,
2013 Jeep Patriot WeatherBeater Floor Liners
,
2013 Jeep Patriot WeatherBeater Floor Mat
,
2013 Jeep Patriot WeatherBeater Floor Mats
,
2013 Jeep Patriot Front Floor Liner
,
2013 Jeep Patriot Front Floor Liners
,
2013 Jeep Patriot Front Floor Mat
,
2013 Jeep Patriot Front Floor Mats
,
2013 Jeep Patriot WeatherBeater Front Floor Liner
,
2013 Jeep Patriot WeatherBeater Front Floor Liners
,
2013 Jeep Patriot WeatherBeater Front Floor Mat
,
2013 Jeep Patriot WeatherBeater Front Floor Mats
,
2014 Jeep Patriot Floor Liner
,
2014 Jeep Patriot Floor Mat
,
2014 Jeep Patriot Floor Liners
,
2014 Jeep Patriot Floor Mats
,
2014 Jeep Patriot WeatherBeater
,
2014 Jeep Patriot WeatherBeater Floor Liner
,
2014 Jeep Patriot WeatherBeater Floor Liners
,
2014 Jeep Patriot WeatherBeater Floor Mat
,
2014 Jeep Patriot WeatherBeater Floor Mats
,
2014 Jeep Patriot Front Floor Liner
,
2014 Jeep Patriot Front Floor Liners
,
2014 Jeep Patriot Front Floor Mat
,
2014 Jeep Patriot Front Floor Mats
,
2014 Jeep Patriot WeatherBeater Front Floor Liner
,
2014 Jeep Patriot WeatherBeater Front Floor Liners
,
2014 Jeep Patriot WeatherBeater Front Floor Mat
,
2014 Jeep Patriot WeatherBeater Front Floor Mats
,
2015 Jeep Patriot Floor Liner
,
2015 Jeep Patriot Floor Mat
,
2015 Jeep Patriot Floor Liners
,
2015 Jeep Patriot Floor Mats
,
2015 Jeep Patriot WeatherBeater
,
2015 Jeep Patriot WeatherBeater Floor Liner
,
2015 Jeep Patriot WeatherBeater Floor Liners
,
2015 Jeep Patriot WeatherBeater Floor Mat
,
2015 Jeep Patriot WeatherBeater Floor Mats
,
2015 Jeep Patriot Front Floor Liner
,
2015 Jeep Patriot Front Floor Liners
,
2015 Jeep Patriot Front Floor Mat
,
2015 Jeep Patriot Front Floor Mats
,
2015 Jeep Patriot WeatherBeater Front Floor Liner
,
2015 Jeep Patriot WeatherBeater Front Floor Liners
,
2015 Jeep Patriot WeatherBeater Front Floor Mat
,
2015 Jeep Patriot WeatherBeater Front Floor Mats
,
2016 Jeep Patriot Floor Liner
,
2016 Jeep Patriot Floor Mat
,
2016 Jeep Patriot Floor Liners
,
2016 Jeep Patriot Floor Mats
,
2016 Jeep Patriot WeatherBeater
,
2016 Jeep Patriot WeatherBeater Floor Liner
,
2016 Jeep Patriot WeatherBeater Floor Liners
,
2016 Jeep Patriot WeatherBeater Floor Mat
,
2016 Jeep Patriot WeatherBeater Floor Mats
,
2016 Jeep Patriot Front Floor Liner
,
2016 Jeep Patriot Front Floor Liners
,
2016 Jeep Patriot Front Floor Mat
,
2016 Jeep Patriot Front Floor Mats
,
2016 Jeep Patriot WeatherBeater Front Floor Liner
,
2016 Jeep Patriot WeatherBeater Front Floor Liners
,
2016 Jeep Patriot WeatherBeater Front Floor Mat
,
2016 Jeep Patriot WeatherBeater Front Floor Mats
,
2017 Jeep Patriot Floor Liner
,
2017 Jeep Patriot Floor Mat
,
2017 Jeep Patriot Floor Liners
,
2017 Jeep Patriot Floor Mats
,
WeatherBeater
,
2017 Jeep Patriot WeatherBeater Floor Liner
,
2017 Jeep Patriot WeatherBeater Floor Liners
,
2017 Jeep Patriot WeatherBeater Floor Mat
,
2017 Jeep Patriot WeatherBeater Floor Mats
,
2017 Jeep Patriot Front Floor Liner
,
2017 Jeep Patriot Front Floor Liners
,
2017 Jeep Patriot Front Floor Mat
,
2017 Jeep Patriot Front Floor Mats
,
2017 Jeep Patriot WeatherBeater Front Floor Liner
,
2017 Jeep Patriot WeatherBeater Front Floor Liners
,
2017 Jeep Patriot WeatherBeater Front Floor Mat
,
2017 Jeep Patriot WeatherBeater Front Floor Mats
,
Floor Liner
,
Floor Mat
,
Floor Liners
,
Floor Mats
,
WeatherBeater
,
WeatherBeater Floor Liner
,
WeatherBeater Floor Liners
,
WeatherBeater Floor Mat
,
WeatherBeater Floor Mats
,
Front Floor Liner
,
Front Floor Liners
,
Front Floor Mat
,
Front Floor Mats
,
WeatherBeater Front Floor Liner
,
WeatherBeater Front Floor Liners
,
WeatherBeater Front Floor Mat
,
WeatherBeater Front Floor Mats